20+ FREE Things to do at Animal Kingdom Lodge
Have you been wondering about which activities are offered at Disney's Animal Kingdom Lodge? We've got you covered!
Some links provided on How We Find Happy may be affiliate links. This means we may earn a small portion of income for our recommendations. Rest assured, this does not increase the price you pay for products or services. Happy Traveling!
We became Disney Vacation Club owners on our first Disney Cruise back in January 2012. Becoming a member wasn't something we ever thought we'd be interested in doing, especially after moving to Florida, but it really is a great fit for our family. Plus, with Animal Kingdom Lodge as our home, it's the best of both worlds. Our entire family loves it, and we particularly enjoy all the FREE things to do at Animal Kingdom Lodge.
When we first became Disney Vacation Club Members, we were also annual passholders. Therefore, we spent a lot of time in the parks all through the year. So, during many of our beginning stays at Animal Kingdom Lodge, we did resort only. As a result, we explored so much of the resort, and got to see all it has to offer.
Exploring the Resort: FREE Things to do at Animal Kingdom Lodge
First, you may be wondering if anyone can walk around the resort. If you are staying at either Jambo House or Kidani Village, then you are easily able to walk around the resort. Plus there is a shuttle between each end. Those staying at other Disney resorts, or off property, to park at the resort, you must have dining reservations. Without dining reservations, you can either take a bus from a Disney theme park or Disney Springs. Or get dropped off by Uber, Lyft, or taxi.
1. Educational Exhibits
Walt Disney World Resorts are all about the immersive experience, based on the theme of each resort. But one thing that sets Animal Kingdom Lodge apart from all the others, education. You can literally walk around the resort for hours reading all about life in Africa. Throughout hallways are large displays on all different topics.
Sometimes in the lobby they will have additional tables set up with more educational items on display, like these wildlife footprints. Cast members are there to answer questions too.
⭐️ Get your refundable park tickets ⭐️
The Animal Kingdom Lodge is not inside the Animal Kingdom theme park, but it does border it. Therefore, the behind the scenes where they take care of the animals is accessible for Disney to have Savanna wildlife at both the resort and park. Many animals from Kilimanjaro Safari, are also on the savannas at both Jambo House and Kidani Village.
2. Savanna Overlooks: Popular Things to do at Animal Kingdom Lodge

Arusha Rock Savanna Overlook is located at Jambo House, straight through the lobby, down the stairs, and out the doors. This is the main public savanna overlook. You will find boards and interactive displays to learn about the wildlife on the savanna. Plus, there is usually guides to answer any questions you may have.
🦓 Check prices and availability for Disney's Animal Kingdom Lodge 🦒
Often you can catch both zebra and giraffe on the Arusha Overlook.
Pembe Savanna Overlook is at Kidani Village, by the pool. But there's also a main savanna overlook through the lobby. We've actually only stayed at Kidani Village once.
If you would like to know all the animals you can see on the savannas, you can find the Animal Kingdom Lodge spotting guide HERE.
3. Relax on the Overlook
Spend some time just relaxing on your balcony, even if you don't have savanna view. Or, if you prefer to be watching the animals, there are several seating areas with rocking chairs where you can relax. Maybe even read a book.
4. Off the Path
At Kidani Village Pemba Savanna you can learn from the guides several times daily. You can get the times from the activities guide at the check in desk. More of the great educational fun.
5. Animal Enrichment
This is probably the most fun thing to do at the resort. My girls still talk about preparing interactive objects and puzzle feeders for the animals. Currently they are doing this on Saturdays and Sundays. These are the feeders they put out on the savannas for the animals.
💰 Book your discounted stay at Disney's Animal Kingdom Lodge 💰
6. Coloring in Lobby
Not sure if they have people come out and do this with the kids anymore, but you can definitely just do it on your own. All you need is plain paper and crayons. You can create rubbing designs on your paper from the beautiful metal designs in the floor of the lobby. There are several of them. My girls really enjoyed this too.
7. Wood Working Demonstrations
Just inside the main entrance, to the right, and by the marketplace, there are a couple chairs. Daily you can catch an artist out there creating wood designs.
If you've never looked for Hidden Mickeys, it's another great way for kids to pass the time, and even get a little competitive. This one is found on the metal leaves that cover the stairway on the Arusha Overlook. If you really enjoy Hidden Mickeys, my girls used to use this book.
9. Community Hall and Simba's Activity Center
At both Jambo House and Kidani Village there is an activity center where kids can color, do crafts and play games.
💵 Save on your stay by renting vacation club points 💵
10. Hakuna Matata Playground by Uzima Pool
The only playground at Animal Kingdom Lodge is at Jambo House, by the pool.
11. Swimming
Actually, there are two pools. Both Kidani Village and Jambo House each have a pool with large slides, toddler areas, hot tubs, and more.
12. Poolside Activities: FREE Things to do at Animal Kingdom Lodge
Another favorite of our girls. Whenever we spent time at the pool, they were always joining in the dancing and games. Kids can even win some prizes.
13. Educational Games
January visits will have some cold days. So instead of swimming, our girls would play educational games by the pool. Learning about ecosystems, and how they can make a difference in the world around them.
14. Walking
🦓 Check prices and availability with David's Vacation Rental 🦒
15. Running
With lots of property around, and a walkway from Jambo House to Kidani Village, there are a couple different places you can walk or go for a run.
16. Tennis
17. Basketball
18. Shuffleboard
Located between both main entrances, you can either bring your own equipment, or grab some from the activities desk.
19. Sunrise/Sunset
Depending on which way your balcony is facing, you can catch some very beautiful sunrises and sunsets. Or from any of the public overlook areas too.
Things to do at Night
20. S'mores and Campfire
At sundown each night you can head down for a campfire. Bring your own s'mores supplies to make yourself some snacks.
🍫 Book your own stay at Animal Kingdom Lodge 🔥
Night Safari and Night Vision Googles
21. Starlight Safari – Night Vision
Take a look at the animals on the savanna after dark with night vision googles. Daily at the Kidani Sunset Overlook.
22. Movies Under the Stars
Nightly Disney movies are shown under the stars and rotates between Jambo House and Kidani Village. Movies switch monthly, so check the activities guide.
If you are staying at another Disney resort, you can get the movie schedules by calling (407) 939-2273. **Movies and entertainment are subject to cancellation or change without notice, and are weather permitting.
23. Sitting by the Lobby Fireplace
To unwind at night, grab a seat around the fireplace in the lobby. This was perfect for our visits in January and cool weather. Adults can even grab a cocktail from Victoria Falls Lounge first.
24. Work out at the Gym
Lastly, if you don't want to lost momentum on your exercise progress, take some time in the gym.
If you'd like to see a tour of Jambo House and our room, here's a video from our January 2020 visit.
💵 I'm inviting you to find out about Disney Vacation Club so you can enjoy the kind of dream vacations my family gets to experience year after year. If you're interested, check it out yourself 💵
This all depends on which park you are coming from. Animal Kingdom Park is right next door, so that's a quick drive. The other three parks are pretty close to each other, so depending on traffic, about a 10 -15 minute drive.
Disney Springs is at the east end of Walt Disney World Property, and the Lodge is at the west of of the property. So, they are as far away as you can get. It's about a 20 minute drive.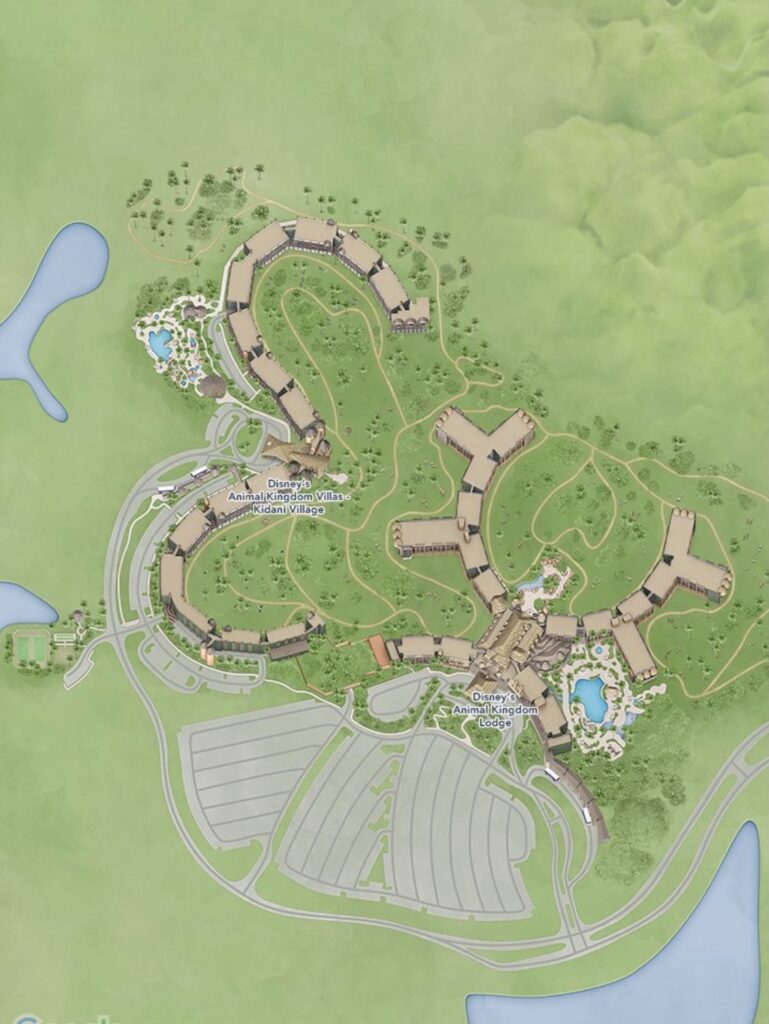 A map showing how large the resort property is.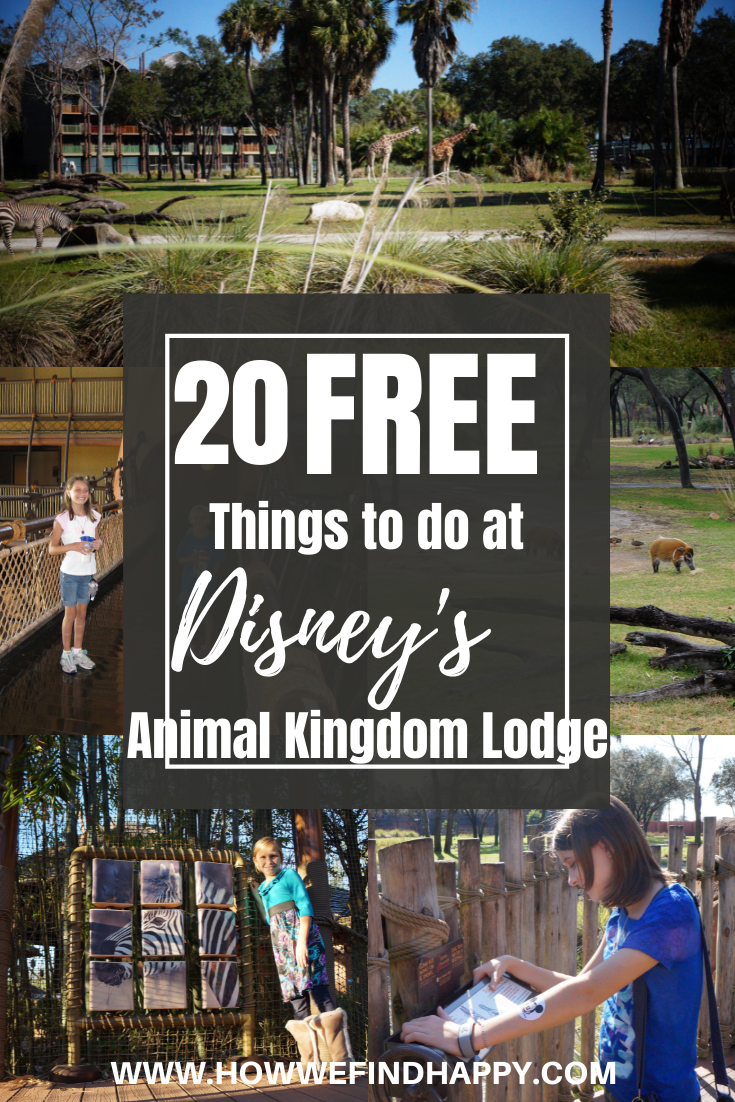 As you can see, there's a lot to do at both resorts, but we personally prefer Jambo House because of the grand lobby, lounge access, and pool location.
🦓 Book your own Magical Stay at Animal Kingdom Lodge 🦒
If you, or your kids love animals, and hands on learning activities, then this resort is the best place for your family to stay. Being at the edge of Walt Disney World property, it just seems so much quieter. The views can leave you speechless. In our opinion, it is totally worth staying.
Can I stay at Animal Kingdom Lodge if I'm not a Disney Vacation Club Member?
Yes, you can stay at Animal Kingdom Lodge even if you're not a vacation club member. The best, and most cost efficient way to stay at any Disney Vacation Club resort is through a rental agency. As an affiliate, I can assure you that David's Vacation Club Rentals is the largest and most trusted source of Disney Vacation Club Rentals in the world and many have saved THOUSANDS of dollars on their Disney vacations and you can too. No Membership is required. Start saving NOW at David's Vacation Club Rentals.
🎟️ Get your theme park tickets HERE 💵
Our other favorite place to stay on Walt Disney World property is Fort Wilderness Campground. Check out our:
25 FREE Things to do at Fort Wilderness
Copper Creek Villas at Wilderness Lodge
Review of Disney's Hilton Head Resort