Gatlinburg for Couples and Adults
When it comes to travel for couples and adults, some destinations just top the list. After visiting a several times, we are happy to share why we feel Gatlinburg for couples and adults should be added to your list of places to go. It for sure meets the cliche of having something for everyone.
Where is Gatlinburg Tennessee?
If you're not familiar with Gatlinburg, it's located southeast of Knoxville, Tennessee, and on the northern edge of Great Smoky Mountain National Park. Therefore, it's perfectly located to attractions and activities for all travelers.
Some links provided on How We Find Happy may be affiliate links. This means we may earn a small portion of income for our recommendations. Rest assured, this does not increase the price you pay for products or services. Happy Traveling!
Why visit Gatlinburg?
What to do in Gatlinburg for couples and adults
Gatlinburg offers the perfect mix of experiences for everyone. For nature lovers, the more active will find plenty of hiking trails for all levels of ability. Or, take a scenic drive through the mountains or Great Smoky Mountain National Park. Thrill seekers can take rides on one of the many mountain coasters, or go zip lining. If you're into entertainment, check out a dinner show. Just looking to have some fun, do some moonshine tastings!
Why is Gatlinburg so popular for couples and adults?
I believe Gatlinburg is so popular because of both it's location, and never ending list of things to do. We've been twice now, and still have hardly made a dent in the many things there are to do in the area. Being centrally located between the north and south eastern part of the US, it makes a nice meeting up spot. Plus, you can find both romantic things to do, and fun adult attractions, like shows, distilleries, breweries, and adventure.
Gatlinburg to do list for couples and adults
What to see in Gatlinburg: Take a scenic drive
Gatlinburg Bypass Scenic Drive
There is so much beautiful nature to see in and around Gatlinburg. One short scenic drive you can take is the Gatlinburg Bypass. Pick it up at either the north or south end of Downtown Gatlinburg. Be sure to stop at the Gatlinburg Overlook.
Roaring Fork Scenic Drive
Just outside of Downtown Gatlinburg, you can take the Roaring Fork Scenic Drive. Just across from Ole Smoky Moonshine, and next to the Gatlinburg Space Needle, take Historic Nature Trail Rd. At first it's a two way road, but once you reach Roaring Fork Motor Nature Trail, it becomes one way. Take your time through the winding roads and enjoy the scenery.
There are plenty of places to stop along the way. Some stops have historic cabins to explore. Two of the stops do include restrooms, in case you're wondering, like I did.
US 441 South Scenic Drive
This is the drive we took on our way up and back to Gatlinburg, and it was so beautiful. Every time we go back, I will want to drive this way. There are lots of places to stop along the way, including several overlooks. We stopped at both the Chimney Tops and Ben Morton overlooks. Check out these views!!
What to see in Gatlinburg: Take a scenic hike
There is definitely no shortage of hiking trails in Gatlinburg. Many of the most popular hikes can be found along Newfound Gap Road, which runs between Sugarlands Visitor Center and Oconaluftee Visitor Center. But don't limit yourself, because there are waterfalls galore throughout the Great Smoky Mountains National Park. Be sure to check out the official website for the best information on all the trails.
Where to go in Gatlinburg
Moonshine distilleries in Gatlinburg for couples and adults
Groups of adults and couples flock to the moonshine tastings. There are three distilleries in Downtown Gatlinburg. Each offers tastings for $5.00. Our favorite is Sugarlands Shine. They also have a bar behind store where you can sit and get moonshine cocktails, and sometimes live music. Sugarlands also offers the most tastings for the money.
But, you're only allowed to purchase one tasting at each distillery per day. Therefore, you can stop into a distillery, walk around the shops, then stop into another. Don't forget to grab your souvenir jars to go. Everything is within walking distance, so it's easy to spend a day around downtown.
Breweries and hard cider in Gatlinburg
Along with distilleries, you can find two breweries, and the Tennessee Cider Company in Gatlinburg. Grab a flight at a brewery, or do some cider tasting. Both breweries have great beer, and are also good places to grab a bite to eat. Get the full write up in our guide to Gatlinburg and Pigeon Forge breweries.
Voted best aquarium in the United States, you're never too old to stroll around with the marine life. This is still on my list of things I'd like to do next time we head back to Gatlinburg. Our middle daughter has been, and she loved it.
Where to go in Gatlinburg: Plan a picnic
With all the scenic drives, and hiking trails, you can find a nice place for a picnic. There are actually lots of places throughout Great Smoky Mountains National Park to have a picnic. We found a great spot near some waterfalls in the Roaring Fork Motor Drive. There was a couple parking spots, so we stopped. It was so peaceful listening to the water, and sitting on the back of our tailgate.
What to do in Gatlinburg for couples and adults
For the adventure seekers, you can take a ride on one of the many mountain coasters. At Rowdy Bear Mountain, you can either ride a glider or a coaster. Zip line through the trees, in the Smokies. Or if you are there in summer, you can go white water rafting. Plus, you are never too old for putt putt. Hillbilly Golf was super fun according to our friends at Perhaps This Is.
For views of Gatlinburg, ride up to the SkyBridge, or walk among the trees at Anakeesta. Perhaps This Is also share all about Anakeesta. We really wanted to do this on our weekend getaway, but it was super busy that day. If you visit in winter, there are several places for skiing, snowboarding, or other snow fun.
Where to eat in Gatlinburg
The only places we've eaten in Gatlinburg, are the two breweries, but whatever you are in the mood to eat, I bet they have it. If you do want pizza, I will say the brick oven pizza at Gatlinburg Brewing is great!
When to visit Gatlinburg for couples and adults
Depending on what you're most interested in doing and seeing in Gatlinburg will determine the best time for your visit. During winter, some of the roads close. Therefore, you wouldn't be able to do Roaring Fork Motor Drive. Weather may also cause some roads in the area to close. But if you want to enjoy the snow fun, then winter would be your obvious choice. One of the most popular times to visit Gatlinburg is during peak fall color change. We missed it by a couple weeks, but would love to go back and see it sometime.
Where to Stay in Gatlinburg?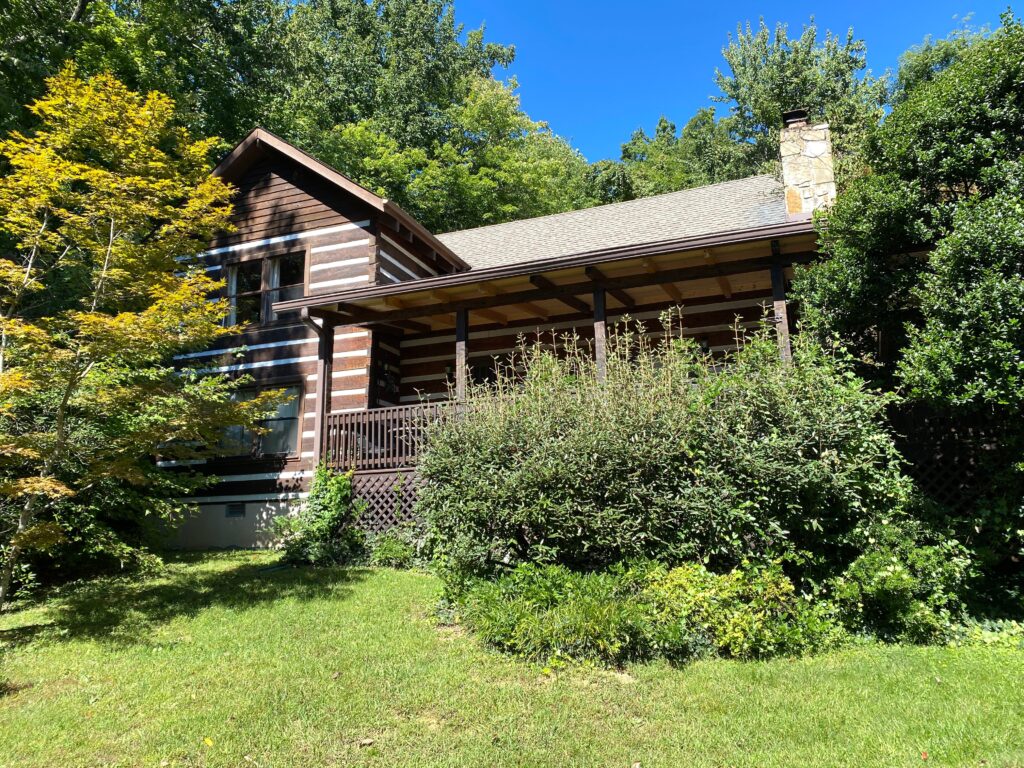 Our first visit we stayed in an Airbnb in Maryville, and our weekend getaway we stayed in a cabin. The cabin was in Sevierville, just outside of Pigeon Forge through Cathy's Cabins. But, you can find all kinds of places to stay on Visit My Smokies.
Where to Park in Gatlinburg?
There are several options for parking in Gatlinburg. If you want to use the trolley, you can park at the welcome center coming in from Pigeon Forge, and take the trolley for free. In Gatlinburg, it can be tough to find parking if you don't get into town early enough. Of course in 2020, not many people were traveling yet, so we found parking easily. But fall of 2021, we had a hard time, but was worth being able to park right in town. Paid parking lots, and parking garages are all throughout downtown.
Final Thoughts on Gatlinburg for Couples and Adults
As you can see, there's enough things to do in Gatlinburg for couples and adults to make it a perfect place to get away. Next time we're hoping to get several couples to meet up with us, and stay together in a cabin. What are your thoughts on Gatlinburg?
More Road Trip Fun:
15 Things to do in Northwest Georgia