Gatlinburg and Pigeon Forge Breweries
We fell in love with Gatlinburg, and the mountains during our visit in 2020, So, we couldn't wait to come back! Since we only got to visit one brewery before, we knew we had to get back for Gatlinburg and Pigeon Forge breweries. We took a couples trip to go back and visit more!
What are the BEST Breweries in Gatlinburg?
Where to go in Gatlinburg for Beer
Well, there are only two breweries in Downtown Gatlinburg, and they don't make it easy to choose a favorite. Therefore, we'll share what we like about both, and hopefully you get the chance to visit both breweries.
During our long weekend getaway, Matt and I got to check out Gatlinburg Brewing Company. First off, the location is pretty cool. With all the windows, you overlook the northern end of Parkway, which is the main strip through Gatlinburg.
Out of our flight of four, we liked everything we tried. Matt's favorite was the Oktoberfest, which is only available seasonally. Therefore, if you visit during the fall, I recommend it. Along with the Oktoberfest, I also liked the Sgt Arnold's Amber, a red ale. For lunch we ordered a brick oven pizza, and it was delicious!
They also have a location in Sevierville, but we didn't get up that far during the trip. Hopefully next time.
During our summer 2020 road trip with the whole family, we took a day trip into Gatlinburg. Our first stop was to Smoky Mountain Brewery for some beer and shareables. You can find Smoky Mountain Brewery near the south end of Parkway, set back off the main strip between Calhoun's and Cherokee Grill.
This was an especially fun visit, since our oldest had just turned 21 that February. It adds a whole new dynamic to visiting breweries when your kids can take part.
Of course, even our younger girls like going for the food. We had their pretzels with beer cheese, and the homemade chili nachos. They consider themselves the pretzel and beer cheese experts. To their standards, everything was two thumbs up!
You can also find locations in Pigeon Forge, Maryville, and Turkey Creek.
Are There Any Breweries in Pigeon Forge?
Where to go for Beer in Pigeon Forge
Again, like Gatlinburg, there are only two breweries, and one of them is another location of Smoky Mountain Brewery. We did try and visit on our weekend getaway, but they were short staffed, and the wait was too long. We were sad, because we really wanted to try more of the food menu.
It's located in The Shops at Lumberjack Square, so there's shops you can walk around to, and an aerial park.
Perfectly located at The Island Pigeon Forge, a dining, shopping, and entertainment area. It was a great place for us to watch some college football, grab a snack, and try some brews.
Out of our flight, Matt liked the Banana Pudding Cream Ale the best. I really liked it too, but it just wasn't something I could drink a lot of. At least that day. I really enjoyed their Oktoberfest. We decided to try the Huge Bavarian Soft Pretzel. It's served with Eighty beer cheese made with their Scottish Ale, and dunkel honey mustard. We are picky about our pretzels, and this one was a winner.
YeeHaw Brewing Company's original location is in Johnson City, but they can also be found in Nashville, and Greenville, SC. I'd certainly like to check out the original location, since that's where it all started.
Where to get Hard Cider in Gatlinburg and Pigeon Forge
In addition to breweries, here are a couple places to get locally milled ciders, meads, and wine. Since cider is also popular among the breweries, we also enjoy tasting them.
You can find Tennessee Cider Co on Parkway, just down the street from Gatlinburg Brewing Company. They do advertise free tastings, but I believe that is limited, Therefore, we paid for the additional tastings, so we could try as many of them as they offered. Everything was great, but my favorite ending up being their special warm, mulled cider. They take the Spiced Apple Cider, and mull it with spices, and cran-apple juice. It was so good! We bought the cider to make it at home.
If you are up in Pigeon Forge, you can find them at the outlets in Sevierville too. Plus you can order from them online.
Just between Pigeon Forge and Sevierville, you will find The Apple Barn. Even if you're not a cider drinker, this place is worth a visit. They offer free samples, but limit how many you can taste. Therefore, if you'd like to taste them all, you can pay a fee to try them. We tasted all they had on tap, then ordered a couple cans to sit and drink.
They have an outdoor seating area, and lots of other shops. I felt like I was at an apple orchard back in Michigan. I could have sat there all day, because there weather was perfect! We didn't go in, but there's also a winery.
Where is Gatlinburg and Pigeon Forge Tennessee?
If you're not familiar with Gatlinburg, it's located southeast of Knoxville, and on the northern edge of Great Smoky Mountain National Park.
Where to Stay in Gatlinburg and Pigeon Forge?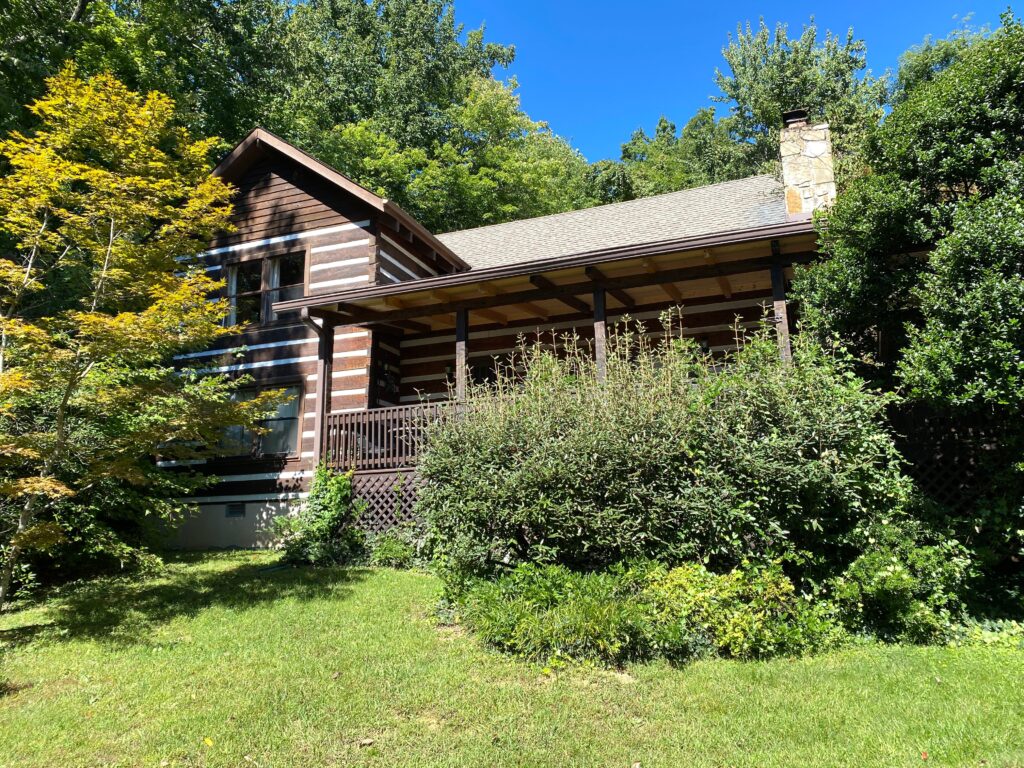 Our first visit we stayed in an Airbnb in Maryville, and our weekend getaway we stayed in a cabin. The cabin was in Sevierville, just outside of Pigeon Forge through Cathy's Cabins. But, you can find all kinds of places to stay on Visit My Smokies.
Where to Park in Gatlinburg and Pigeon Forge?
There are several options for parking in Gatlinburg. If you want to use the trolley, you can park at the welcome center coming in from Pigeon Forge, and take the trolley for free. In Gatlinburg, it can be tough to find parking if you don't get into town early enough. Of course in 2020, not many people were traveling yet, so we found parking easily. But fall of 2021, we had a hard time, but was worth being able to park right in town. Paid parking lots, and parking garages are all throughout downtown.
For parking in Pigeon Forge, it really depends on where you are going. Things are much further away unless you are visiting places like The Island. The Island has their own huge parking lot with trams to shuttle you in from the lot.
Final Thoughts on Gatlinburg and Pigeon Forge Breweries
Honestly, I find it very hard to choose a favorite from these Gatlinburg and Pigeon Forge breweries. With each having it's own unique location, great food, and fun atmospheres, I feel you can't go wrong with any of them. As for the hard cider options, I LOVED The Apple Barn, and will for sure go back! Let us know if you've been to any of these Gatlinburg and Pigeon Forge breweries.
For more brewery guides: