What to do in Alexander Springs
This first magnitude spring has been bringing people together for generations. With the crystal blue water that's cool to the touch, who could resist spending the day by its shore. Exploring Alexander Springs has become one of our favorite things to do when family and friends come to visit. Therefore, I hope this inspires you to check out more of the natural side of Florida.
Where is Alexander Springs?
Alexander Springs is located in the southern portion of the Ocala National Forest. Which happens to be the oldest National Forest east of the Mississippi River. Also in what's considered Central Florida, about an hour north of Orlando, and between Altoona and Astor. It's a pretty remote area, so you won't find stores, or gas stations too close by.
About Alexander Springs
Alexander Springs is one of the 27 first magnitude springs in Florida, and is also considered one of the easiest to enjoy. First magnitude means the spring must release a minimum of 64.6 million gallons of water a day, or 100 cubic feet per second. Springs can range anywhere from 68 to 72 degrees, and Alexander Springs is on the warmest end at a constant 72 degrees. Refreshing, but this can also seem very chilly on a hot summer day.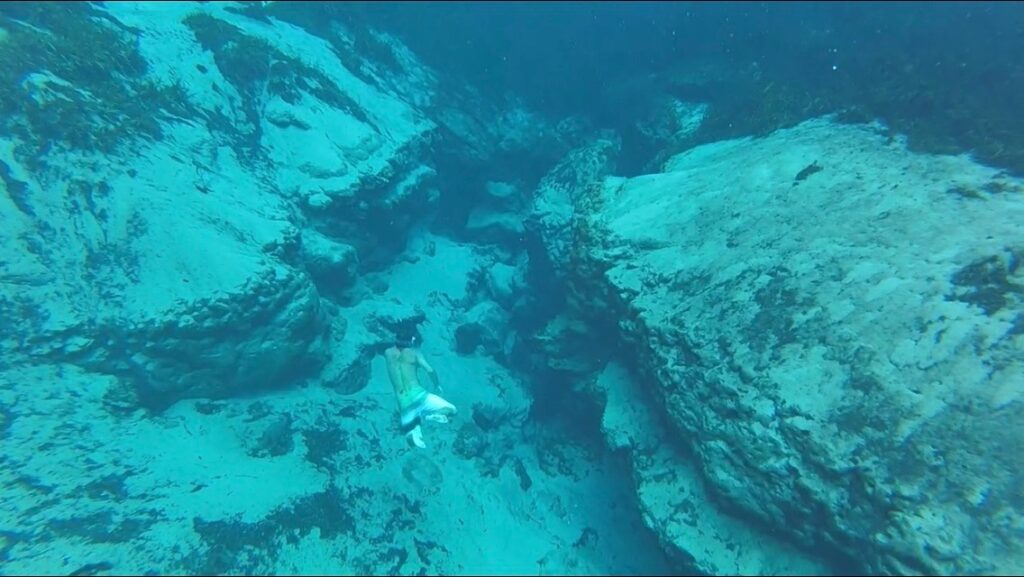 Nobody knows how Alexander Springs got its name, or when it was first discovered. Although, it's known that the Timucuan Tribe were around the spring for years. Plus there have been artifacts found along the water banks.
Whether you're looking to spend the day relaxing, or having an adventure, Alexander Springs offers a wide range of activities. For example, hiking, swimming, canoeing, fishing, or even camping. You can find the full list of activities on their website.
Alexander Springs Hiking Trails
You can get a glimpse of the landscape where the Timucuan Tribe lived when you walk the nature trail that leads along the springs. We've walked the boardwalk trail, but have yet to walk the full 1.1 mile loop leading to the Timucuan ruins. Right now the boardwalk, and trail is currently closed for refurbishment. Each time we visit, we cross our fingers for it to be back open.
You may see some wildlife when walking the trail, like turtles, geckos, raccoon, and even gators could be in the water. Most importantly, always keep an eye out for dangerous snakes, like rattlers, water moccasin, or coral. We've not seen any here, but that's not to say they couldn't be.
If you follow the boardwalk trail, it leads to this lookout dock across the springs from the beach. The rest of the loop is a marked ground trail.
Here is the view from the dock, looking back at the beach and swimming area.
Swimming in Alexander Springs
Two sets of steps at each end lead into the shallow water, making it easy to take your time, and help little ones.
You are allowed to bring your own floats to use in the water. It's 72 degrees year-round, therefore it's chilly to stay submerged for long periods of time. A float helps you stay in the sun, and be able to enjoy the beautiful water at the same time. It's my favorite way to enjoy the springs.
If you have snorkeling gear, you can do some underwater viewing. Out by the actual springs, it gets pretty deep, where you can dive down below. The underwater views can be quite amazing. As you swim down toward the spring, you can feel the water rushing up. The video is from our first visit to Alexander Springs, and we got lots of underwater footage of how cool it looks.
Just had to share this view of both above and below the water, showing the springs, and the beach.
Little fish like to swim around the shallow areas, and it's fun to watch the younger kids get all excited.
There's not a lot of shells, but you can muster up some smaller ones around the swimming hole, and in the water.
Picnicking and Relaxing
Even though there's lots of picnic tables, be prepared if you're there on a busy summer day, as you may not get a table. If you bring your own chairs, there's plenty of room along the water, and between tables to set up.
Off to the left in the water is a really shallow spot where you can actually put your chairs in the water, relax, and keep cool. In addition, the tree coverage gives lots of shady area, even though on a hot summer Florida day, shade does not do much for heat relief. Only the water can save you there.
Adventure at Alexander Springs
Along with hiking and swimming, you also have the opportunity to rent a canoe or kayak at the concession stand. Rates are very reasonable, and subject to change, but all the information is available at the park. I could not find any information or pricing online to share.
Tips for Visiting Alexander Springs
Get there early!! Especially in the summer, and on weekends. Cars start to line up hours before opening. Price has also increased since our last visit, so be prepared to pay $12 per person.
You will find they have a gift shop with anything you may need while visiting.
Be cautious with your belongings, because raccoons like to roam the area, and they don't mind getting into your belongings. As long as someone remains with your things, they should mostly stay away. We try to cover our things with towels when we walk away. Plus, the vultures can sometimes get close to the tables.
The easiest way to carry your belongings is with a wagon. The walkway to the water from the parking lot is easily accessible for anything with wheels, or if you get the wagon with sand wheels you can pull it anywhere.
As with any body of water, keep your eyes peeled for gators. I've never heard of them ever being in the swimming area, but still be cautious.
Clean up after yourself. It makes me sad when we spend time outdoors, and end up picking trash others leave behind. We have one world, let's take care of it together.
Restrooms with showers can be found up by the concessions, which makes is convenient to change clothes, and clean yourself up before leaving.
Final Thoughts
In conclusion, my favorite things about exploring Alexander Springs is its shallow water to wade in. It makes getting into the chilly water so much easier. Plus how big the swimming area is, so you can float around, and still be away from others.
More Florida Adventures Close By: